Catering to a slightly different market – and doing quite a bit more – is Sound Device's MixPre-3M. This is not strictly a USB interface, more of a mobile recording device ideal for videographers, film-makers and (now with the 'M' for 'music' models) musicians looking to make high-quality recordings on the go. With an even smaller footprint than your standard USB audio interface, the MixPre-3M is extremely portable, without compromising on build quality.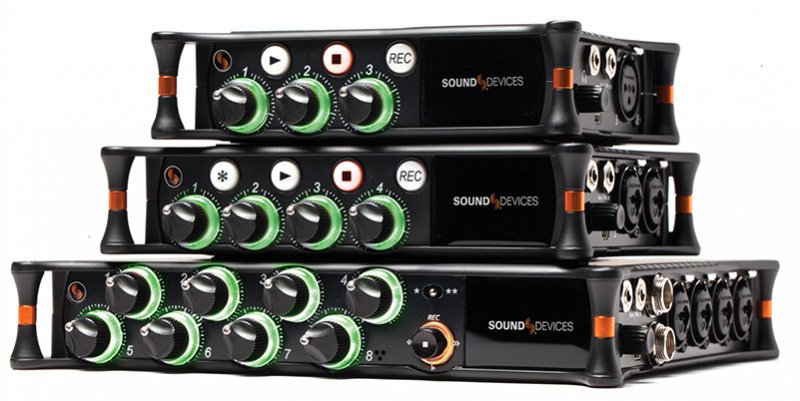 As reflected in the rrp of $1125, the number of features packed into this clever unit is so many that detailing all of them in this review would require a word count I fear I'm not allowed to exceed! So I'll cover some of my favourite points and encourage potential buyers to continue their own research.
First off, the preamps. This is what all of us audio engineers are most concerned about and frankly where you should spend the most money. The hand-crafted, class A 'Kashmir' preamps did not disappoint. They were extremely quiet, detailed and provided excellent headroom, something of great importance, especially when recording location sound. They may not be the go-to choice for an audio engineer in the studio, but on any film set, podcast recording or home studio they will certainly out-shine many competitors.
One unique feature about Sound Devices' MixPre-3M is its capability as a stand-alone recording device. Using an SD card, you can record up to five channels at once to the device. These recordings are saved to projects which can be navigated through the very user-friendly touch screen located on the front panel.
The touch screen gives access to a number of very useful features such as high pass filters, analogue limiters, input and output routing. You can even set up a click track within the device, making it an almost mini DAW in itself.
Furthermore, audio can be streamed via USB to a DAW of your choice which makes this a good choice for podcast making. All of these features combine to make the MixPre-3M one of the most versatile recording devices I have seen in some time. Its functionality makes it extremely valuable to those working with video in particular. The front panel allows easy mixing of three channels down to two stereo channels in real time. This means an audio mixer on set could perform effective volume rides during a scene, yet still access the raw files from the SD card should the initial mix prove unsatisfactory.
I do worry that despite the touchscreen interface, the number of possibilities squeezed into this device could be a bit daunting to a new user. It wasn't the most intuitive device right off the bat, however, I imagine that anyone serious about their audio craft will get their head around things reasonably quickly. It'd be great if it had something other than 3.5mm TRS outputs as well, making it more useful to musicians wanting to interface with other equipment. However given its priority towards audio for video and portability, this stands as more of a nice-to-have than an essential feature.
The 3-input Pre-3M is the junior model in a range that also includes a MixPre-6M and the motherlode MixPre-10M. In case you already own a non-M model Sound Devices MixPre unit you can have it cross-graded to an M version (and revert if necessary!) for a nominal cost.
Summarising…
In summary, this review shouldn't be read as a product comparison as it's clear we are talking about apples and oranges here. Whilst there are many similarities between them, these two great products are designed (and targeted) for very different purposes.
The Presonus Studio 26 is a new and improved version of the USB interface many will know so well, with great sound quality and robust construction. Sound Devices' MixPre-3M is an innovative and new beast altogether, combining the best features of a location sound recorder with a USB interface. I think both of these units will be around for some time and just like their predecessors, will rise to the occasion of any job thrown at them, year after year.
Morgan Allen produces, engineers and mixes audio at Depot Sound in Devonport, Auckland. www.depotsound.co.nz